Are you thinking of using Semrush for website auditing? Don't you know how to use it?
Don't worry.
Today in this post I will walk you guys through the Semrush site auditing tool review and explain all the features it has got to offer.
Semrush is an all in one SEO tool for marketers, agencies, and bloggers. It comes with a suite of tools. For all the features it has got to offer, you can check out my Semrush review.
Semrush comes with a website audit tool that audits your site and analyzes the health of your website. It crawls your website, checks for the errors and provides you a complete checklist of the errors you need to fix.
If you run an SEO agency this is the best site audit tool you can use to keep your client's websites healthy as far as SEO is concerned.
Semrush Website Audit Tool
To get started with this tool you need to head over to the All tools > projects > add a new project.
There you need to enter the project domain and name. You can also share your projects with your clients and team members.
Semrush site audit tool analyses the website for both desktop and mobile versions. Also, you can schedule the auto crawls at any time you want.
Once you enter the site auditing dashboard you will see the various tools like:
Site audit
Position tracking
On-page SEO checker
Social media tracker
Social media poster
Many more
Let me explain one by one.
Semrush site audit
After completing the site audit, the tool will give you the site audit score which varies from 0% to100%.
You can see that the site health core for BloggingX is 82%. Site health is determined by taking several factors into consideration like the number of broken pages, redirects, pages blocked by the crawler, pages with issues, and also the warnings and notices found by the crawler.
The higher the score is, the better the site's health. After completing the audit, Semrush will give you the number of errors, warnings, and notices found in the site. Errors are more dangerous than warnings. So you need to focus on fixing the errors first.
The tool checks for over 130 various types of issues like broken links, pages with duplicate title tags, pages can't be crawled, etc. You can refer to this article to know the complete list of errors, warnings, and notices that the crawler will look at.
You can find that the crawler has crawled 95 pages. Let us analyze the reports one by one.
Crawlability:
You can see that the crawlability score is 97%. Out of the 95 pages crawled 71 are indexable pages and 24 pages are not indexable.
The site's crawlability and indexability depend on site architecture, internal linking, redirects, server errors and many more.
All these 95 pages crawled have a crawl depth of less than 4 which is good. Crawl depth is one of the SEO metrics and refers to the number of the clicks needed to reach the specific page from the home page.
[You need to keep the crawl depth below 2-3 clicks, as far as both SEO and UX/UX is concerned.]
For the web pages that exceed the crawl depth of 3, search engines may find it difficult to crawl those pages. To fix this, you need to do internal linking for those pages.]
This is a great feature that lets you know which of your blog posts needs internal linking thus saving your time in manually analyzing the pages to add internal links.
As I said previously the site's score is determined based on the number of errors, warnings, and notices, you can see in the above screenshot that there are 1 type of error, 11 types of warnings, and 6 types of notices.
You need to fix all the errors like incorrect pages, fix the broken links, broken pages, and re-audit the site to improve the site's SEO health.
If you have an agency, auditing tons of sites for lots of factors manually may turn out to be a big nightmare.
Semrush integrates with Trello which is an online task management software and provides you the provision to export the reports directly from the dashboard and send the files as attachments to your team members.
One thing you need to keep in mind is that the site audit report may have some false positives also.
You need to analyze them carefully and hide those issues while sending them to your team members so that they can focus only on the true errors thus saving the time.
To fix the issues in an organized way Semrush allows you to sort out the errors based on the categories like metatags, duplicates, links, etc.
This comes handy when you want to fix certain types of errors. For example, if you want to fix only the broken links you need to just click on the links and fix them immediately.
Statistics
Semrush allows you to analyze the statistics in both lists and graphs format. Graphs help in understanding the data easily. The graphs help a lot for clients in easily digesting the data.
Markup data:
As you see in the screenshot, 32% of our pages don't have markup data. Adding markup to your web pages helps search engines crawl your site easily. It improves SEO and thus the rankings.
Semrush supports 4 markup types as of now:
Schema.org
Twitter cards
Open graph
Microformats
You can add the markup data to these 30% pages thus helping the search engine visibility to crawl.
HTTP status code:
You can also notice the status code of the crawled web pages. 77 out of 100 pages have HTTP code 2xx, which means that all these pages are successfully loading without any issues.
22/100 pages have 3xx code which means further action needs to be taken in order to complete that request like page redirects.
Only 1 page is having 4xx code which is a broken page error caused as the server was unable to serve the request.
The pages with codes 4xx and 5xx harm your site's performance and you must fix them. Apply the filters if you want to fix only the 4xx errors or 5xx errors.
Canonicalization:
It is important to have a canonical tag rel="canonical" in your web pages from the search engine viewpoint.
Because if the same content is available in multiple websites how the search engine will know which is the fresh content and which is duplicate?
Even Google suggests you have canonical tags.
In order to avoid duplicate content issues, you need to add self canonical tags. It means that you need to add the canonical tag to your own page saying Google that this is my own content.
If any other site copies your content and claims as it's own then it will not hurt you as you have already self canonicalized the content.
If you are republishing the content of other websites you must add the canonical tag to the original source so that Google will consider the original source as the fresh one.
You can observe from the report that 67% of the pages are self canonicalized while 33% of the pages are not having canonical tags.
You can filter those pages and add them canonical tags so that your webpages will be safe from duplicate content issues.
AMP links:
Google has recently introduced a new technology called Accelerated mobile pages which loads the web pages fast on mobile devices.
I have not implemented this technology on my site, so it is saying 100% of the pages are not having AMP link.
Sitemap vs crawled pages: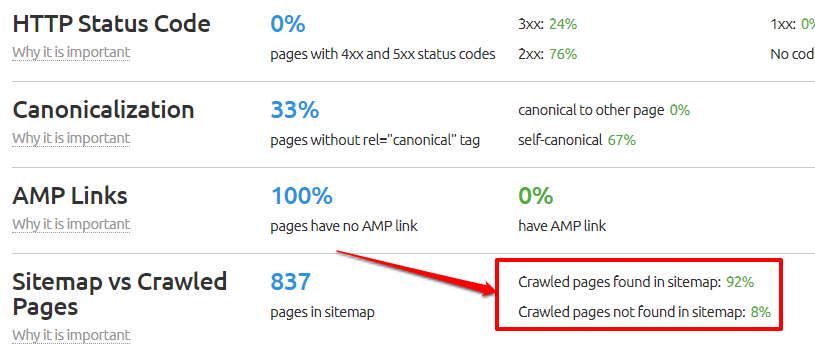 You can see that 92% of the pages crawled on my site are present in the sitemap.
If the crawler has crawled all the webpages that are mentioned in your site map then it indicates that your site has got good crawlability.
If pages crawled doesn't match with the sitemap, then it may be due to bad linking, server, and technical errors.
So in order to improve the crawlability, you need to make sure your web pages have a crawl depth of less than 3 and also fix the server/technical issues.
Incoming internal links:
Having more internal links results in easier crawlability and faster indexing. Effective internal linking is a proven way to increase website traffic.
You can see that there are 2% of pages that have internal links of 6-15 and 40% of them have internal links of 2-5, 8% of the web pages have only 1 internal link.
You can make use of the filters for easy analysis and to prioritize the pages to handle first when internal linking.
Now, I have filtered the pages with only 1 internal link.
I can consider adding more internal links* for them so that it helps improve the crawl depth.
Hreflang usage:
Hreflang attribute comes handy if you are running a multilingual website. It forces the search engine to display the web pages based on the geographical location of the visitors.
As BloggingX is not a multilingual site you can see that I am not having any Hreflang tags on my site.
If you run a multilingual site make sure you include rel="alternate" hreflang="x" attribute.
Compare crawls
Semrush allows you to compare the site audit reports by choosing from the drop-down menu and monitor the progress over time.
With this, you will get to know how many errors, warnings, and notices have been fixed and how many new ones have arisen over time.
If you struggle finding a way to fix the errors, just hover on the 'learn more' button, Semrush will suggest a way for you to fix it. What else is needed?
You can see that the issues have been fixed over time.
You can also observe your site's performance in the progress section for the selected reports. As you can see from the curve, the number of issues has decreased a lot compared to the previous audit.
You can also export these audit reports and add your viewpoints or notes on the report while sharing it with your team members or clients. This is a really good feature for effective communication based on the audit reports.
Onpage SEO checker
Onpage SEO checker will help you in improving your SEO, site performance, and traffic thus giving a boost for your search engine rankings.
Semrush will analyze the top SERP results and gives you a list of ideas to include in your blog posts.
You can also observe that there are various ideas based on different SEO factors. Out of 161 ideas, there are 25 backlink ideas, 25 semantic ideas, 17 technical SEO ideas, and the list go on.
If you are currently working on a link building strategy, you can leverage its backlink ideas so that you can concurrently work on them. This is really a huge advantage.
Semrush also gives the prioritized list of the pages that you need to optimize first so that you don't need to waste time in identifying the pages to get started with.
The pages with low difficulty, ease of implementation, and capable of driving potential traffic will have 3 yellow bars that are the low hanging fruits you need to focus first. The pages with 2 or 1 yellow bar will be difficult to get the result.
Let me analyze the ideas for one of my posts. i.e. Best Mac apps for bloggers.
You can see that good thing or improvements are shown in green letters. I have not done any keyword stuffing and the SEO strategy I implemented for this post is also good.
By comparing and analyzing the competitor pages it is suggesting some of the target keywords used in the title tags, h1, and in the content. You need to be very careful with its suggestions as there will be some false positives too.
Also, it is suggesting that I need to embed the video content as competitor pages are using it. It is a good idea and I can implement it.
When it comes to the semantic search, I have not properly covered open-source apps and note-taking apps in my post on "Mac apps for bloggers". It is a good suggestion to include these topics as it will increase the post's overall topical relevancy and overall traffic.
You can assign these tasks to your SEO team at any time using the "send to Trello" option in Trello.
Verdict
Site auditing is a great way to improve your site's visibility and performance which in turn increases the website traffic and the rankings.
You can't spend tons of time auditing your site manually. For effective site auditing, you need to make use of the best auditing tools.
Semrush is one such tool that comes with powerful auditing features and also helps you in fixing them.
If you want to get hands-on Semrush's site auditing tool, you can try out its 30 days free trial with access to all features.
I hope you guys found this post helpful.